The Magnificent 7: November 2020's Top Websites Using Powerful Banner Announcements to Talk to People
rocksolid | November 05, 2020
Monthly Roundup! November 2020 Edition. This article explores seven top websites effectively using Banner Announcements to provide important updates, deals, news, and timely information to their customers.
Introduction
Website Announcement Banners are a fantastic and less pushy strategy to give your audience updates on what's happening with your store, blog, or organization without getting in the way of all your other content. The key here is the "less pushy" part because pop-ups are incredibly annoying, especially when people are trying to read something on your site, and their view gets blocked by a pop-up announcing your new eBook or a storewide sale. While pop-ups get a bad wrap, they DO provide value when done right, which we'll discuss in another article.
Even if you need to convey a super important message, it's best to get out of the way and be subtle about it by providing a gentle reminder that looks as if it's part of your overall design philosophy. We've scoured the web to find the top websites effectively using announcement banners to let their users know what's going on.
Generally, an effective announcement banner should:
Be easily noticed but out of the way.
Convey multiple messages.
Change color depending on what part of the website a user is on.
Switch to a different message if a user navigates to a subsite.
Remain persistent on all pages (globally) when necessary.
Let's take a look at the top sites that are doing Announcement Banners right for November 2020.
Udemy 
Udemy is one of the leading online schools for pretty much anything you want to learn. Their announcement banner sits at the top of the website (above everything else) and is persistent on all pages unless you close it. The banner's message is for new students and uses a countdown timer to convey a sense of urgency that prompts users to sign up. Registered users will see a different message once they log in. Udemy's announcement banner is yellow and seamlessly integrates into the site.
Highlights:
Persistent on all pages unless the user closes it.
The message changes depending on the user.
Uses a countdown timer for more urgency.
Conveys a message for new and returning users effectively utilizing a color (yellow) that's hard not to miss.
Microsoft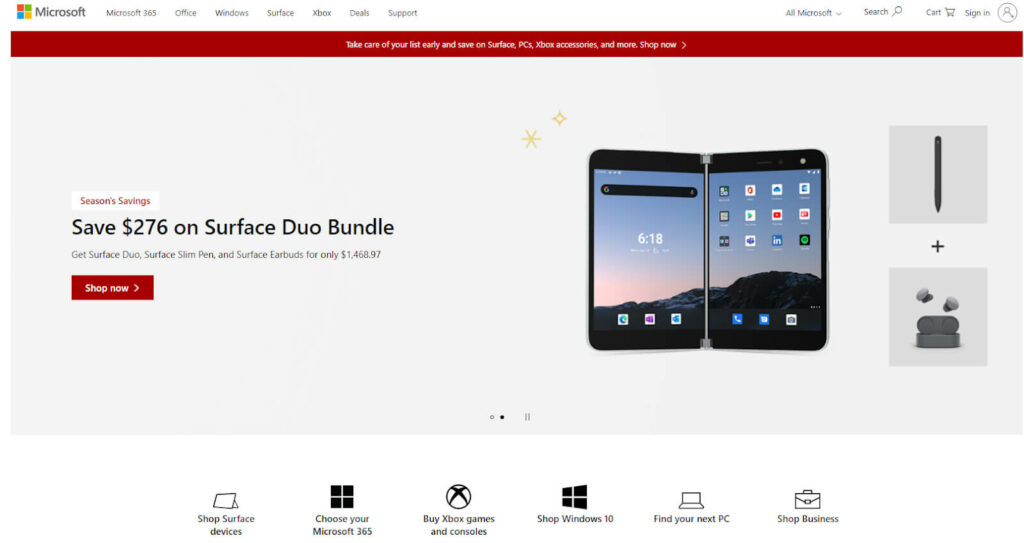 Microsoft is a juggernaut in the tech industry and needs no introduction. Their announcement banner sits just below the masthead (logo and navigation links) and has a static message. The banner's content and color changes depending on which page or subsite you're on, providing timely announcements on what you may need, such as a new computer or MS Office software.
Highlights:
The message changes depending on what page you're on and remains relevant.
The banner color changes depending on the page.
The banners are sales-focused, offering hardware and software solutions.
IBM 
International Business Machines Corporation or IBM is an OG and pioneer in the technology industry. Their announcement banner uses a dark shade of blue as a backdrop color for two messages written in an old-school font reminiscent of what ancient computer systems used. The design fits well with their new website's overall theme, without using IBM's traditional "Big Blue" color scheme. By splitting the banner in two, IBM can share the latest industry news and bundle it with announcements for upcoming webinars or events.
Highlights:
The announcement banner is the perfect embodiment of an announcement banner because it provides news and updates users on future events.
Incorporates IBM's new color and design philosophy.
Zazzle 
Zazzle is one of the leading online marketplaces where users can create their products with indie manufacturers using images from participating organizations. Their announcement banner changes color depending on the season. For instance, Zazzle's front page banner color during Halloween was orange, in tune with the season and theme. Right now, it's red, mirroring the Christmas Season. Suppose you navigate away from the front page and visit any other subsite, the banner changes to blue. What's great about Zazzle's banner is that it's dynamic and has three rotating messages on current discounts and sales. The banner also includes a promo code.
Highlights:
The banner changes color depending on the theme or season.
Multiple rotating messages about discounts and upcoming sales.
Incorporates a promo code.
Sales-focused messages.
Zappos 
Zappos is one of the leading online shoe retailers in the US, famous for its outstanding and uncompromising customer service. You know they're serious about customer happiness by positioning their announcement banner on top of everything else, making it persistent on every page, and using the same blue used in the company logo. Zappos is all about the customer experience, placing a Customer Service dropdown menu with links to an FAQ, Contact Page, and Feedback Page. There's also a 24/7 hotline (which not all companies do nowadays) and information on their latest deal, currently a 5% cashback for an Amazon Rewards Card.
Highlights:
Persistent banner on all pages that only changes when a user goes to Zappos Kids.
A customer-centric message that includes how to contact Customer Service and a link for a 5% cashback.
The Iconic 
The Iconic is an online clothing retail store for the Australian market, sourcing apparel collections from international and Australian brands. Their announcement banner is located just below the masthead and features multiple rotating messages, using a grey that is consistent with their website's design philosophy.
Highlights:
The announcement banner sits below the masthead, but it still catches the eye because of the multiple rotating messages.
Deftly incorporates a Covid-19 message (Contactless delivery) with a note about Free Shipping.
Thredbo 
Thredbo is an alpine community and ski resort in the icy peaks of southeastern Australia that offers the best year-round skiing, hiking, and mountain biking in the country. Their announcement banner sits on top of the masthead, sharing space with the shopping cart, sign in button, and search bar. The banner provides Covid-19 updates and notifies users about the upcoming hiking and biking season, all in a discreet package that's out of the way but still visible.
Highlights:
Uses an announcement banner in their header to announce essential information
The right mix of sales and informational content.
Integrated nicely within the header and navigation section.
You Can Do It All With Our Bulletin Plugin
To recap, website announcement banners are a great way to communicate with your customers without being rude or getting in their way – when done right. It's not all about your message: color, persistence, variety, and placement matters. If your website runs on WordPress, our Bulletin plugin is a powerful solution that does everything mentioned above. With Bulletin, you can easily add emergency announcements, sales banners, news updates, notifications, and a lot more. For custom integration of announcement bars or banners into your WP Theme, please contact us.
If you know your way around Word Press, you can Get Bulletin today and start rocking your announcements!